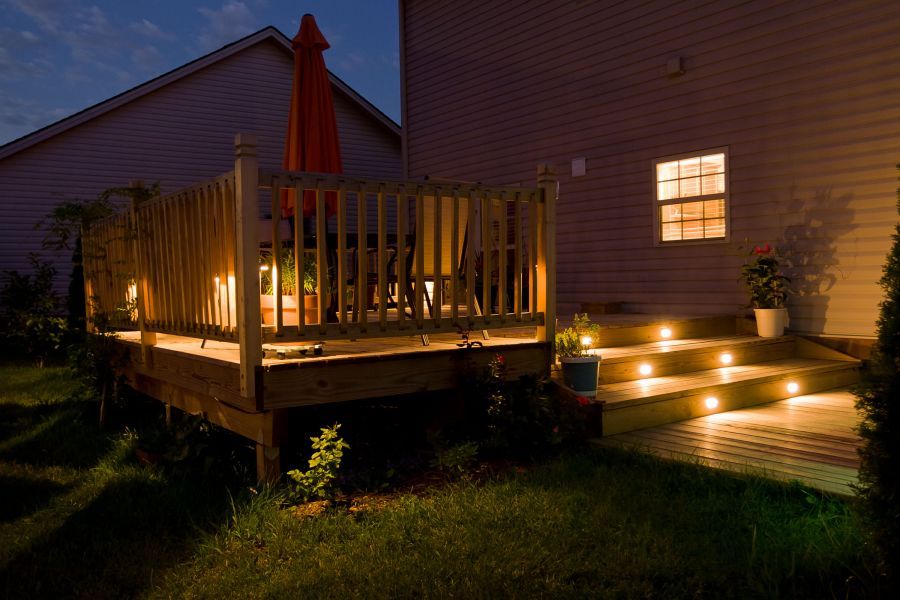 Your KCI Home extends beyond your back doors. If you are ready to amp up the ambiance of your outdoor living area and spend more evenings under the stars, the right lighting can help. Here are some suggestions for where to start!
String Lights
Tried and true, string lights are one of the simplest ways to turn your outdoor space into a more charming place. String lights, also known as fairy lights or bistro lights, are a popular and versatile choice for patio lighting. They create a warm and inviting ambiance, perfect for outdoor gatherings. You can string them along the perimeter of the patio, hang them overhead, or drape them across trees or pergolas. It takes only a few minutes to put up but makes a world of difference.
Solar-Powered Lights
Another excellent option are solar-powered lights which are an eco-friendly and cost-effective choice for patio lighting. These lights harness energy from the sun during the day and automatically illuminate the patio at night. They come in various styles, including string lights, stake lights, and lanterns.
LED Deck or Step Lights
LED deck or step lights are specifically designed to illuminate stairs, pathways, or the edges of your patio. These lights provide a practical and stylish solution for outdoor safety and ambiance. They are typically installed flush with the surface, creating a subtle yet effective lighting effect.
Lanterns
Lanterns are a classic and charming choice for patio lighting. You can opt for traditional lanterns with candles or choose battery-powered or solar-powered lanterns for a hassle-free experience. Lanterns can be placed on tables, hung from hooks, or placed strategically around the patio to create a cozy atmosphere.
Outdoor Wall Sconces
For more permanent options, wall sconces can be great. Outdoor wall sconces are fixed lighting fixtures that can be mounted on the walls of your patio. They provide a combination of functional and decorative lighting, enhancing the overall aesthetics of the space. Wall sconces come in various designs and finishes to suit your patio style.
Fire Pit or Fire Bowl
If you're looking to create a cozy and warm atmosphere, consider incorporating a fire pit or fire bowl on your patio. The flickering flames provide both light and warmth, making it an ideal gathering spot for cooler evenings. Just ensure proper safety measures and follow local regulations when using open flames.
When planning your patio lighting, it's essential to consider the layout of your space, the desired atmosphere, and the functionality you require. Combining different lighting options can create a dynamic and inviting outdoor area for relaxation, entertainment, and enjoyment. So go ahead! Enjoy your outdoor space to the full by incorporating well thought out lighting.
By KCI Homes 5-23-2023